Business Overview: SaaS based company with the goal to eliminate avoidable food waste within institutions and food service industry
Role: Customer Success Manager

Website: www.leanpath.com
MISSION: TO Help the Google Food Program take control of food waste, to reduce its environmental impact and make the world a better place.

We accomplish this through:
We make it easy for staff to track all food waste with our industry leading smart meters.
Smart Analytics & Coaching
We provide insight so Chefs can manage what is measured via operational changes and shifts in behaviors.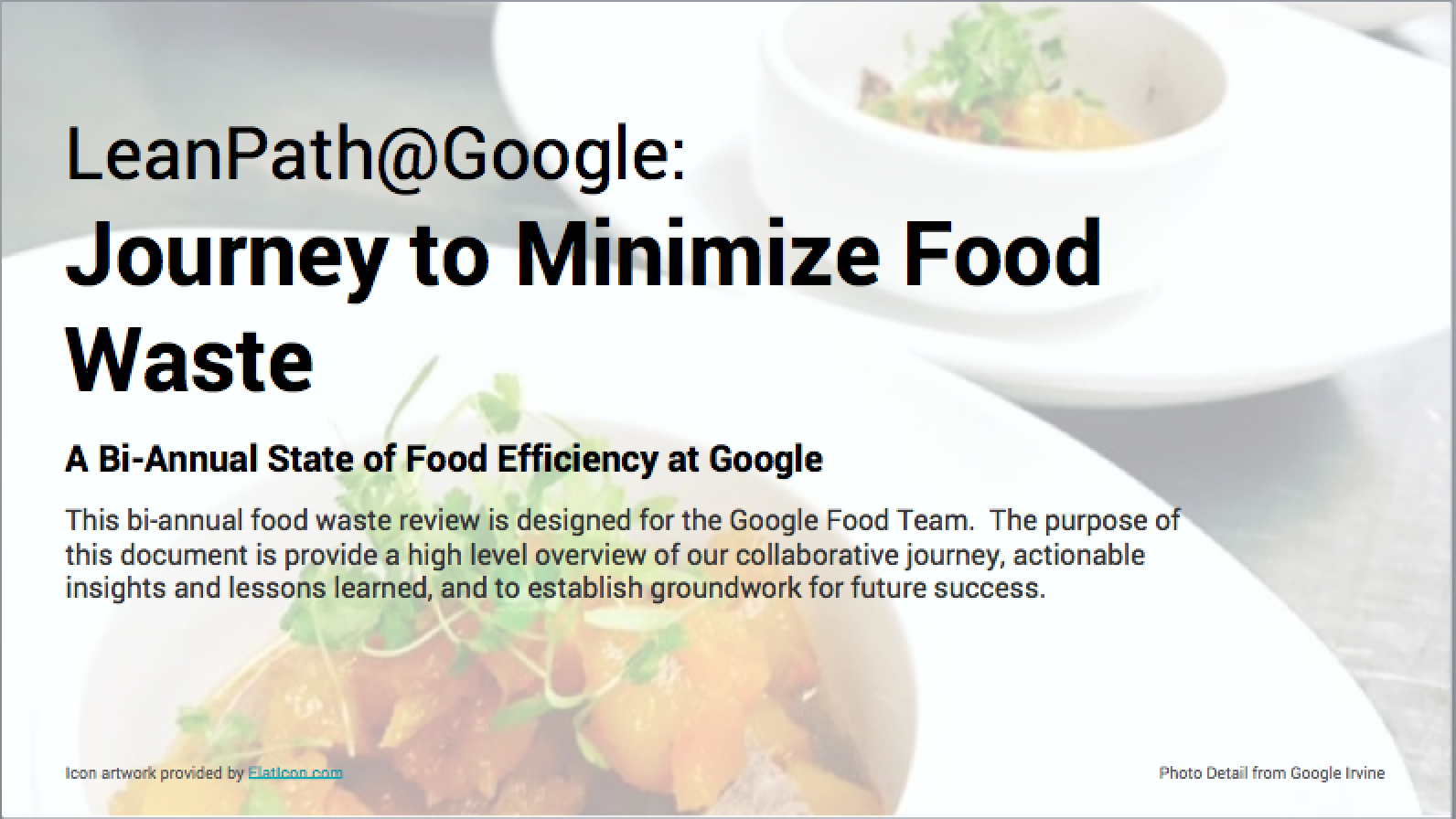 We uncover areas for innovation that require deeper exploration and aspirational primary research.
As the Customer Success Manager for our client, Google, I was in charge of customer relationship retention and optimization. It was my goal to make them as successful as possible in using our product and to move the needle on reducing food waste. In two years I helped the company avoid 2 million pounds of food waste.
Coach
Built relationships and provided program support to 120+ stakeholders spanning 12 countries within a corporate employee food program. Stakeholders included Global Directors; Regional Managers; Vendor Partner Chefs, Managers and Corporate Social Responsibility Leaders.

Key approaches included sustainable behavior & cultural change, operational changes, utilizing data for decision making, spearheading strategic projects and communicating best practices
Trainer & Onboarding Support
Provided on-site and virtual training to racially and culturally diverse Chefs and kitchen staff at over 50 sites globally, unifying teams towards the common goal of tracking and subsequently reducing food waste
Communications & Value Added
Generated quarterly reports using data driven storytelling to communicate analytical findings and actionable insights to corporate leaders

Assisted in developing primary research projects aimed to increase opportunities for upstream waste prevention and sales expansion

Advised on the development of corporate KPIs aimed to establish success criteria amongst all cafes, which allowed for improved monitoring of customer health and targeted coaching

Liaison for quarterly vendor partner reviews

Developed wireframe and content for private food waste prevention website portal to support Chefs and Vendor Partner efforts

Developed company Guide to Creating a Culture of Food Waste Prevention

Designed and analyzed quantitative and qualitative surveys

Developed an employee manual for LeanPath@Google program